Aviator said:

m444uk said:

Aviator said:

I can´t see any stitch holes where the eagle and rank insignia should have been and no eppaulettes. The Luftwaffe tolerated when pilots privately purchased their leather jackets and wear them. The Luftwaffe never issued leather clothing to their pilots officially. But what the LW wanted their pilots to do ist to wear the LW and rank insignia.

Have a close look onto the left cuff. There´s no typical wear caused by having the left arm on the throttle.

Of course only clues but I´m sceptical that this suit has ever been worn by a LW pilot or in a cockpit at all.

The Luftwaffe did issue leather outfits. Look for the Rb nr.that most Reichs gear was tagged with.

The gray jackets seem to have been issued in quite large numbers as there are numerous examples around.

This style also came in brown.

There where also more specialist leather outfits issued to jet pilots.

The last pics show the U-boat type jacket.

According to my grand uncle who was a pilot in the luftwaffe from 1941 to 1945 during WWII (and survived) the luftwaffe did not issue leather jackets for pilots officially. The Wehrmacht did hand out jackets for other parts of the german army like the navy and tankcrews. That´s why the most jackets are tagged and so many jackets were gray because the were supposed to go to the u- boat crews. But they did not go to the Luftwaffe officially but traded from other german army members. You will see high ranked officers or aces with leathterjackets mostly, because they were able to afford them, but not the lower ranks. The Luftwaffe pilots´ official clothing was a simple flight suit.
Here's another issue leather jacket. Note the electrical heating connector, these were designed for high altitude flight.
http://cas.awm.gov.au/heraldry/REL/18105.001
The other issued jacket was the sheepskin kanal jacket. The white version was widely used on the eastern front.
They can also be found in brown which seem to have been Hungarian issue and blue variants found in the west
issued to units using the summer channel cloth jacket.
Hungarian kanals and 1944 pattern luftwaffe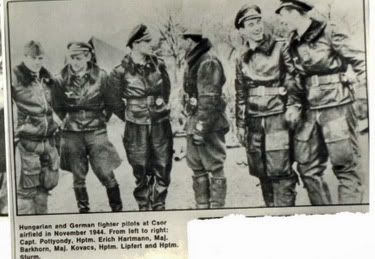 Try to get hold of this book from your library and you will see the vast array of flying clothing the Luftwaffe issued.
http://www.amazon.co.uk/Luftwaffe-vs-RA ... 16-8306553