Evening All,
Hope it's okay me posting this here. I have absolutely no affiliation to the seller and merely thought someone on the forum may be interested in what seems to be quite a highly regarded repro A-2, but is a crappy listing likely to fly under the radar.
(I came across it trawling Ebay and having never heard of Sefton did some research on this forum)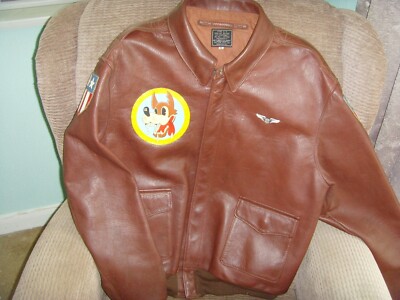 A MANS VINTAGE STYLE CHESTNUT BROWN REAL LEATHER FLIGHT JACKET. U. S. A. 46.. Condition is Used. Dispatched with Royal Mail Signed For® 2nd Class. THIS IS IN EXCELLENT CONDITION. REALY HEAVY. LOVELY THICK LEATHER. I WOULD SAY IT WAS A UK 44 XL. A REAL CLASSIC. happy bidding.
The photos are rubbish and the seller hasn't helped themselves with the listing title. Was going to stick a bid myself, but the size is way too big for me and the blood chit put me off.
All the best,
Rob
Last edited: