So I just typed up a nice long post about my Schott jacket, and then a blackout caused it all to disappear. Let's hope I can make it through this one...
I have a Schott 641HH...
....and I've never really been super pleased with the feel of the HH. It's always had a sort of plastic-like feel to it. The jacket never really took to my shape like leather does (even after soaking it and wearing it). There was just something I disliked about it.
So over the weekend I decided that since I never quite liked the quilted lining the jacket had, I'd cut it out and get it relined. Well upon removing the lining, I found out why I have hated Schott's HH so much, and maybe someone on the forum can enlighten me on what I found. There was a thick white felt attached to the rough side of the leather. It's nothing you can see on the finished product, but once you remove the lining it's everywhere. It's on every piece of leather used to make the jacket. It's firmly attached to the leather, but with some work you can peel it off and then cut it near the stitching. The following pics that I just took with my phone show what I mean...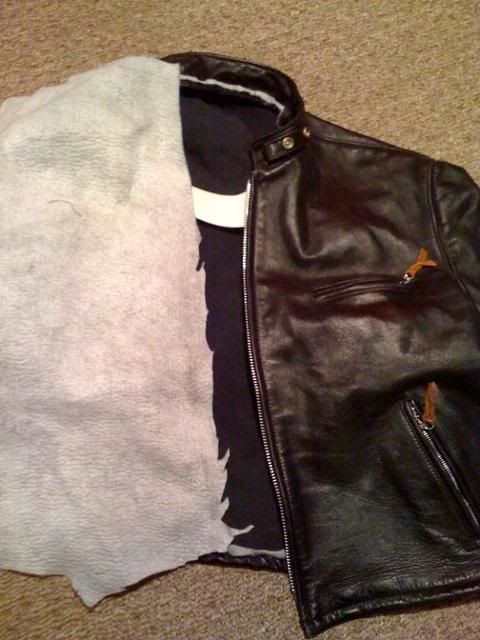 In the bottom picture you can see black stuff on the underside of the felt.. that's from peeling it off the rough side of the leather.. it's really stuck to it. I just don't know why this stuff is used on the jacket... could it be to make us think the leather is more heavyweight than it really is? It really added to the stiff feel of the jacket, and the HH feels pretty thin after removal of the felt. Anybody know why the leather is done like this? The HH now feels great and I can't wait to get the jacket relined... it finally feels like real leather as opposed to something weird and unexplainable. Just looking for some answers.
Tommer