I would like to share with the forum what I have come up with while convalescing from surgery. As a result of this surgery, I have had more free time on my hands than ever which has all been done under my doctors orders to do little of nothing physical. My down time has resulted in a fervor of activity concentrating on a fovorite activity on the internet or searching for that perfect vintage G-1 flight jacket. As it goes nearly all of my flight jackets that I own one way or the other are related to my father and all of his jacket if are not yet will soom be laden with his naval aviation career related patches. By chance, I happen to live in a United States Navy town. Tidewater Virginia has the largest USN presence on the East Coast and my Father's badged or patched flight jackets seem to draw to much attention to myself to be using it as every day wear. So for months now I have been actively searching for a nice G-1 flight jacket to be used strickly as my wearer
By some sort of god send I blundered into private purchase for the exact jacket that have been searching for. This jacket I found is as near an exact match to the jacket which I have that will be used to duplicate my fathers early 1950s original flight jacket. This week I found, purchased and just received another larger sized G-1 Werber flight jacket. Neither of these Werber jackets may be perfect but this one exceeded my expectations as it needs minimal modification to bring it back. This jacket unlike the other will remain all original.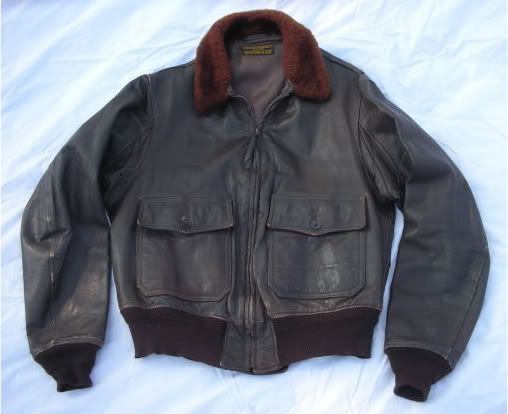 Just to show you how close they resemble one another I took a photograph of them together. This new welcomed addition is very similar to the one that will act as my Father's duplicate but it is just slightly smaller in the upper dimensions. These are the measurements 19.5"to 20" shoulders, 23.25" to 24" arm pits and 22" to 21.50" where the leather shell meets the waist knits. This waist measurement is so often overlooked and has a great bearing on the over all fit of a G-1! What pleases me the most about this new Werber is that it is larger where I needed it the most. By chance the waist is one full inch in diameter larger on this jacket yet, it is still just smaller than the other. These Werber jackets seem to charatoristically have short bodies and narrow waist as compared to a M-422A. As it goes the narrow waists on these short jackets tends to get caught up and bunch up on ones belt every time one sits and stands. However, this one does not do that as it does not cut so quickly to the waist as the other. So, the end result is an over all better fit.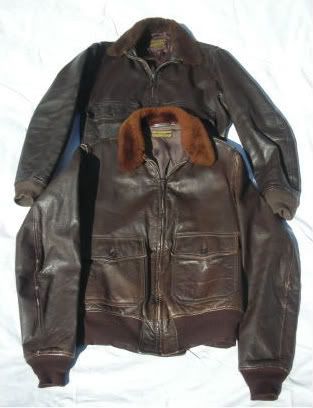 I have found in my search for this other larger sized G-1 Weber that these jackets vary from one to the other in their stated size more than any other G-1 flight jacket. As for me this jacket is in the middle of the continium and that means it may or may not fit. Although these Werbers may have the stated size of 44 they can differ drastically in their dimensions. I have seen these same size 44 jackets going two full sizes either way with the real shoulder measurement varing from 16" to 20" and armpits measurements ranging from 18" to 24". The sleeves on this new jacket are unusually long and are 27" from the upper tip of the shoulder to the end of the knit cuff. One thing remains constant in these USN Werber jackets and that is the short distance from the base of the collar to the end of the knits consistantly remains a 25" to 25.5".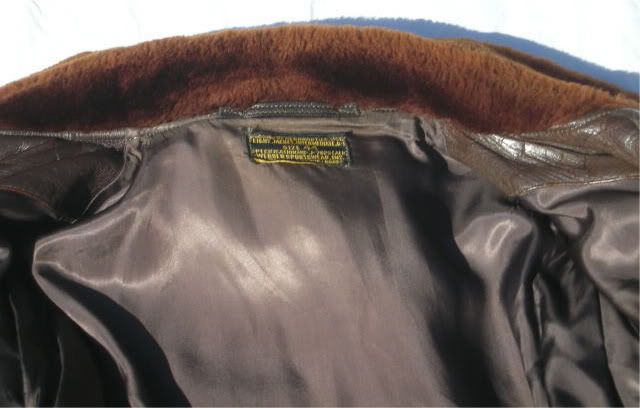 This Werber exhibits the nicest orginal lining of any of my jackets. As seen here, there is absolutely no stains fading rips or holes. Another unusual aspect of this jacket and pointed out in Roger Moores jacket website is the wind flap. This Werber's windflap is a full three inches wide as evidenced by this photograph
This USN jacket that I just fell into exhibits some but minimal cockpit time or only a slight "Patina". All of the high spots are worn on the shoulders, pockets flaps, elbows, seams and where the leather sleeve meets the knit cuffs. However these knits are in excellant shape with only one moth hole visible on the right cuff knit. The mouton on this jacket is in the finest shape of any of my four G-1s. This Werber has nearly no visible wear at all to it's faded brown collar. Both jackets exhibit grainy and supple leather. However, this new one is a lighter brown color and has a more thin leather shell than the other. The only two problems that I found are both with the right sleeve. As seen here the sleeve has a split seem where the stitches came undone just foward of the gussets and a cut or split in the leather sleeve adjacent to the cuff.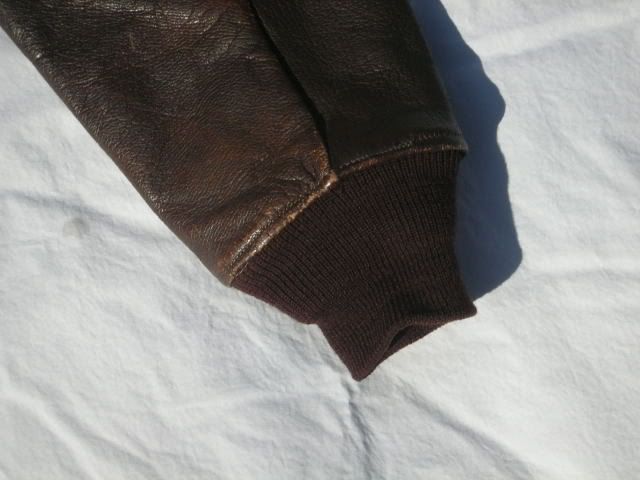 The problem is on the bottom side of the sleeve and barely noticable. However, I am going to send this out and have that seem mended before it gets any worse. I beleive that the sleeve lining will have to be separated from the cuff knits and the sleeve pulled inside out to facilate stiching the seem on the sleeve. While that work is being done I beleive that I will go ahead and have the sleeves shortened as this Werber jackets 27" long sleeves exhibits the worst case of tunneling on me that I have ever expereinced as I see less than 1/4" of the cuff knits when I am wearing the jacket.
I will add to this thread when the jacket is returned to me following it's repairs.
Cheers, Dave